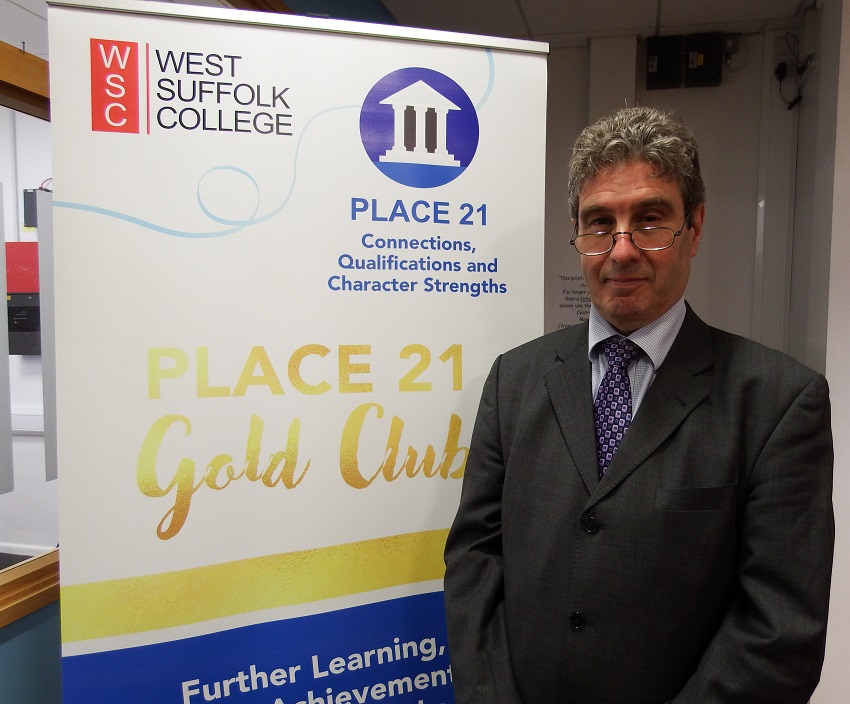 PLACE21 Project Manager Andrew Wheeler is on a mission to help students expand their horizons.
As part of their successful PLACE21 scheme West Suffolk College have created a unique 'Gold club' programme.
The Gold club scheme is hugely representative of the mission and vision of the college in that the students can expect support in making excellent connections with employers in order to maximise their future.
Designed to help 15 selected students stand out from the crowd, the programme will give them the opportunity to discover what works in the real world of business. It will also ensure that the students will stand out from other university applicants and will bolster their CV for future employment.
Andrew Wheeler, PLACE21 Project Manager said "This will certainly enable the selected students to expand their horizons and to be set aside from others. There are some great aspects to this programme, it is a really exciting opportunity for the students."
As part of the programme PLACE21 has partnered with the Business Growth Club which helps small business owners in Suffolk and Norfolk grow and develop. Neil Foley, Founder of the Business Growth Club said "The Gold club will help with the attitude of the students and the right attitude is what employers are looking for now. Every employer I have spoken to recently are of the opinion that the right attitude in an employee is by far the most important thing."
Neil went on to say "This will also show employers that the students have gone above and beyond the usual curriculum."
The partnership with the Business Growth Club will see the students be matched up with employers who will not only act as mentors, but will provide important work experience too; the students will learn what business owners are taught to grow their businesses. The programme will also consist of online learning using video and an online workbook, masterclasses delivered by Neil himself and the Gold club challenge.
When asked how this initiative will help the students on a long term basis Neil explained that "They will be seen as very valuable to potential employers and if they do well employers are likely to stay in touch with the students for future opportunities."