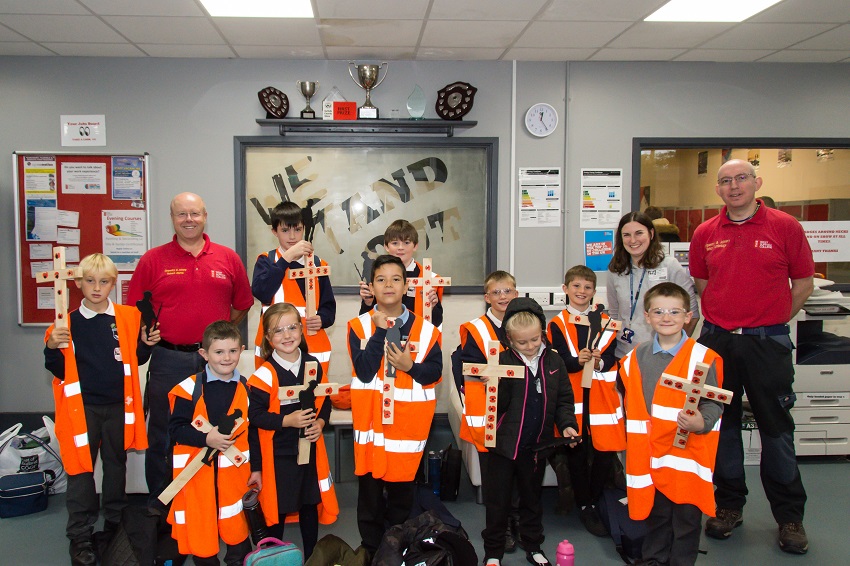 Bosmere Primary pupils teaming up with student working on wooden memorial cross at the Milburn Centre.
Bosmere Community Primary School and West Suffolk College have joined forces in a unique collaboration to commemorate the Armistice Day Centenary this November.
On Monday 15th October, Brian Tunbridge, lecturer in School Construction Crafts at West Suffolk College took 10 children from Bosmere Primary on a school trip to the colleges' Milburn campus. The trip involved the children being able to observe the Carpentry and Joinery students work on soldier silhouettes and then get involved in the painting of these.
The silhouettes have been displayed in the town of Needham Market around Jubilee Square in the High Street adorned with 100 in wooden digits and spiralled 'home-made' barbed wire. The wooden digits have been finger painted by every child in Years 1 and 2 at Bosmere Primary.
Rachel Tunbridge, teacher at Bosmere Primary said "It was extra special for ten of our children from across years 1 to 6 to have the opportunity to visit the college and see the process of making the soldier silhouettes first hand."
Rachel added, "The children were rather awestruck by the size, sights and sounds of the construction workshops."
The children were also able to make their very own wooden memorial cross, supported by both staff and students from the carpentry and joinery department. Brian said that, "The children enjoyed the experience immensely. It allowed them to personally experience the whole process if the joint remembrance project as well as sowing the seeds for potential future career aspirations in construction."
Local businesses in Needham Market were more than happy to support the project with 25 different shops displaying the wooden silhouettes in their windows. Debbie Coomes, Executive Director for Healthcare, Sports and Technology at West Suffolk College said "This is truly amazing and inspirational – to bring all of these communities together to reflect on and be part of our history is wonderful."