Students at Treatt in Bury St Edmunds.
Culinary Arts students from West Suffolk College treated Treatt employees to a hand prepared buffet lunch to promote health and wellness in the workplace and affording students excellent work experience on a real life brief.
The event held at Treatt's head office on Thursday, saw almost 200 staff enjoy a flavoursome two course healthy lunch prepared by the College's catering and Hospitality students.
In line with the health and wellness theme and in order to support Treatt's aim to become more of a plastic-free business, the company has removed all plastic cups from its water stations. However, in order to ensure that everyone can benefit from drinking plenty of water whilst at work, each member of staff was given a stainless steel water bottle, BPA free and dishwasher safe to take away with them.
During the lunch there was chance to try two new product innovations, prepared by the company's Applications team. Also the winner in the latest 'Employee of the Quarter' was announced, together with the highly commended awards.
Daemmon Reeve, Treatt's Group CEO commented: "Everyone at Treatt was very impressed with both the high standard of catering provided by the West Suffolk College students, the food was delicious, and the level of professionalism throughout the event by these year 2 students."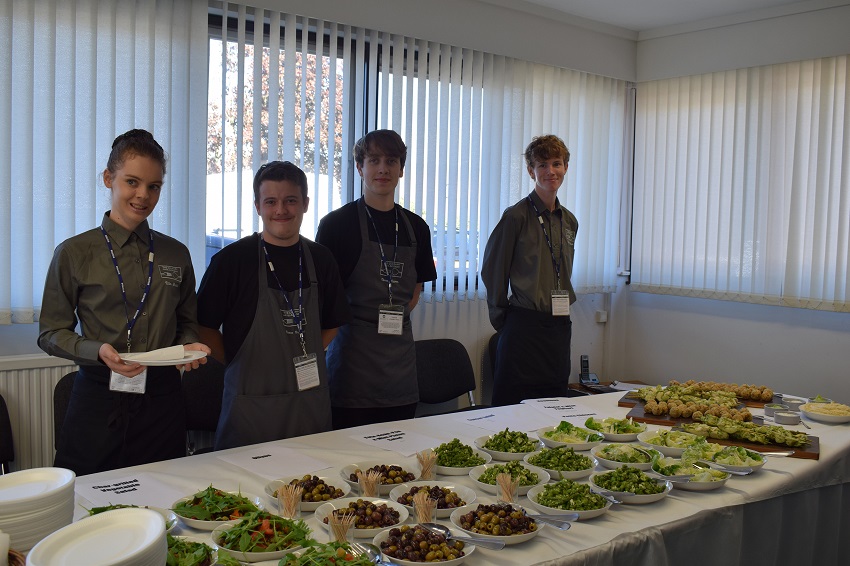 Mike Mulvihill, Director of Hospitality at West Suffolk College said, "Working with Treatt has been an absolute pleasure, as it offered students a high quality commercial work experience opportunity, which they found extremely rewarding. This is invaluable to them and their training, and one of the commitments we offer all students as part of their students. It means post study our students are work ready and will have connections to their industry already that they call upon".
Phil Stittle, Executive Director of Business Development said, "We have been working with Treatt for nearly two years on a number of projects. We have multiple and positive strands to our partnership, including working with them to offer real live briefs to a number of our students, including those within the arts and design department and culinary arts department.
"We are very grateful to them for their partnership and commitment to support the young people of this region."