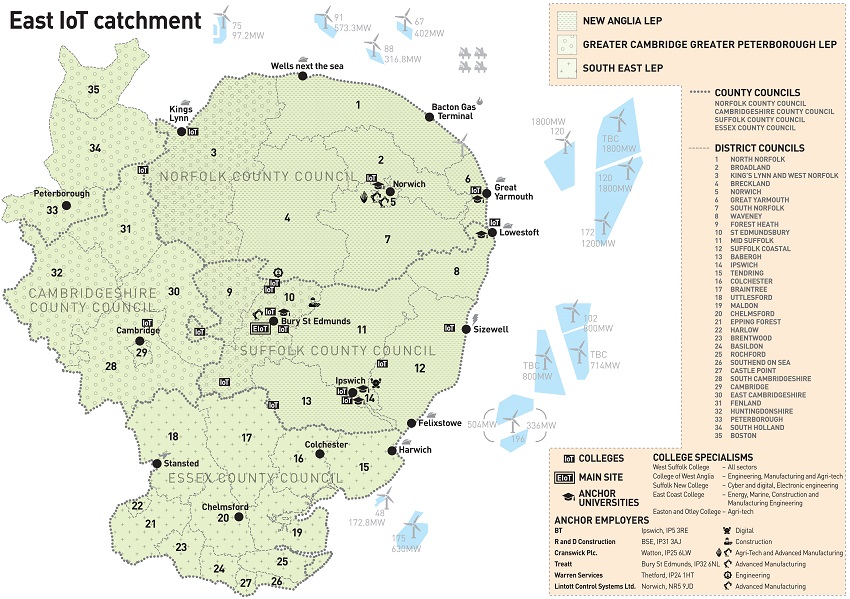 The Eastern Institute of Technology (EIoT) will focus on those key growth sectors, offering specialist training, access to the latest equipment, technology and to workplace learning.

An innovative collective proposal by colleges, universities and businesses to establish one of the Government's Institutes of Technology in the East has taken a step forward, becoming one of just 16 national projects (out of over a 100) to move into the second stage of bidding.
The bid to create an Eastern Institute of Technology (EIoT), led by West Suffolk College and New Anglia Local Enterprise Partnership in collaboration with multiple interested parties, is a response from local businesses and colleges to identified skills shortages.
Across Norfolk and Suffolk, some 32,000 businesses employ 325,000 people in energy, ICT and digital, advanced manufacturing, agritech and construction. Those businesses all need highly-skilled staff to grow and sustain their futures, but research shows that more needs to be done to ensure they have the employees they need into the future.
The Eastern Institute of Technology (EIoT) will focus on those key growth sectors, offering specialist training, access to the latest equipment, technology and to workplace learning.
In addition to developing the skills which businesses need, the EIoT will help to raise levels of aspiration and attainment right across the region, as well as specifically encouraging woman into engineering. The EIoT bid is presented under the shared vision of 'equality of opportunity regardless of where you live'.
Businesses backing the project include, 3Sun, Amcor, BT, CEFAS, Claas, Cogent Technology, Cooper Roller Bearings, Cranswick, Dayle Bayliss Associates, EDF Energy, EEEGR, Festo Didactic, Haas, Hethel Engineering Centre, HTK, Invoke, Links East, Lintott , Morgan Sindall, Palm Paper, Roomfoss Control Systems, SEMTA, Treatt, Vitec Group, Warren Services.
The five colleges working in partnership to develop the bid are West Suffolk College, Suffolk New College, Easton and Otley College, College of West Anglia and East Coast College.
The Eastern Institute of Technology would operate from those sites, capitalising on the foundations laid through recent and planned investments in infrastructure and innovative provision, including £10million in a specialist training facility at East Coast College, £6.5million in the University Centre at the College of West Anglia, £7million in engineering facilities at West Suffolk College as well as the existing great facilities at Suffolk New College, Easton and Otley College and at bases within universities and sixth form centres.
The Universities supporting the proposal include the University of East Anglia and the University of Suffolk.
Dr Nikos Savvas, CEO of Suffolk Academy Trust and Principal of West Suffolk College said, "It is great honour and testimony to our collective vision to have got through to the next stage. Our proposal for an Institute of Technology for our region will play a key role in meeting employer needs, supplying the highly skilled technical workforce and graduates critical to support growth in ICT, Digital, Energy, Engineering and Agri-tech sectors. This bid offers the most exciting and significant opportunity to establish East Anglia as a global centre of technology, engineering and science excellence.
"If successful, the hub and spoke model will see EIoT provision delivered at five leading FE colleges across the region and will ensure that it will serve an economy and all communities that span across Norfolk, Suffolk, Essex and Cambridgeshire.
This is an incredibly powerful example of the EAST strategically coming together as one for the greater good"
Doug Field, Chair of New Anglia Local Enterprise Partnership, said: "Securing one of Government's prestigious Institutes of Technology is a significant opportunity for our region and is an ambition set out in the Economic Strategy for Norfolk and Suffolk, so it is great that the first stage bid has been successful.
"The Institute will assist in creating a skills pipeline for technical careers and attract young people into aspirational careers. It's vital that we provide our key sectors with a reliable and sustainable supply of technical professionals to secure our place on the global stage. I am pleased that the project has support from so many local employers who are working hard to ensure that it is a success."
Thetford-based Warren Services is one of the anchor businesses supporting the bid. Founder Richard Bridgman, who was awarded an OBE for his services to Apprenticeships in the recent Queen's Honours list, said: "The need for skilled labour is increasing and staff are becoming more difficult to find. Technology will steer where we are heading in the future and as a company, we need to remain vigilant and ensure our staff have the skills required. We feel that an Institute of Technology will be able to provide the flow of talent required at the higher levels."
The second stage bid for the Eastern Institute of Technology will be submitted to Government later in the summer.
To find out more and to register your support for the bid, visit www.newanglia.co.uk/EIOT