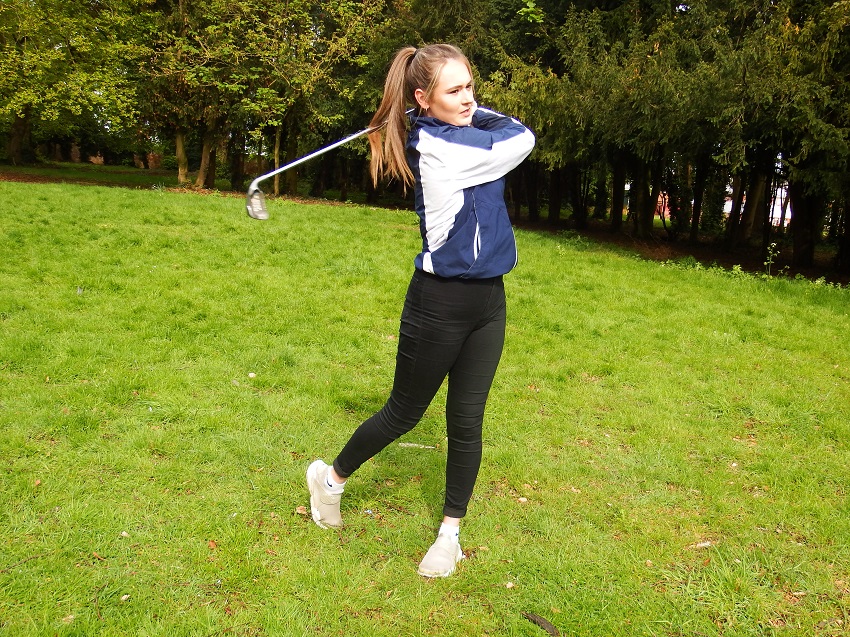 Fiona says playing golf has also made her interact with many people of different ages making her more confident.
At the age of 12 Fiona Stokes' grandad took her out on the golf course for the first time, and he kept taking her back. Now, five years later she has a string of successes to her name and wants to be a professional golfer and coach.
"The first time I thought it was really hard, but grandad is persistent and he carried on taking me. Then when I first hit a proper shot I wanted it as my career."
Fiona is now 17 and her latest success is third in the country, behind two much older students, at the recent Association of Colleges Sport National Championships, the largest annual student sports event in the UK.
The West Suffolk College student is also current Suffolk Junior champion and the Suffolk Junior captain. Golf is now taking up a large part of her life. When she is not at college studying Sports and Exercise Science she is training three times a week and competing at weekends, playing at both Haverhill and Newton golf clubs. She also works at Haverhill Golf Club and the Bury Golf range.
"It takes up a lot of time but it's definitely worth the time sacrifice", says the super keen golfer.
Fiona says playing golf has also made her interact with many people of different ages making her more confident.
Haverhill is her golf club from the early days when her grandad took her. She is now their Junior Club champion and has taken the Ladies Club championship two years running.
Her progress went so well that she got into the Suffolk development squad and now travels to Bramford for her coaching as she needed more experience. Not only is she in the Suffolk Junior's first team she also plays for both Suffolk Ladies and Haverhill Ladies.
Fiona's ambition is to turn professional and coach. At the moment she plays off a handicap of 6 and needs to improve that before she can take her qualification when she is 18.
She is also a golf ambassador and really enjoys coaching youngsters to follow in her footsteps. "I'd say definitely give it a go as it's not your typical sport- it's associated with old people and needs more young ones".
"I think more golf clubs need to relax the rules to get young people on committees so they can move golf forward, particularly with welcoming younger people more."
Speaking from her experience Fiona says golf needs to be made a lot more accessible to young people. "It is a sport that comes with a cost, there are quite a few opportunities for free coaching to try and get people into the sport but there is a cost to staying."
Sports Academy Coach Richard Wilkins said "although Fiona plays a lot of golf during the week, she works hard academically as well, she's a high level distinction student and doing very well".
Fiona says: ""I am really glad my grandad pushed me quite hard. I couldn't play if he didn't fund a lot of it My grandparents have stopped playing but they are still very supportive, they always come to prize giving. Haverhill golf club have all been very good, a lot of people are very supportive, people I don't know congratulate me and ask how I am getting on."