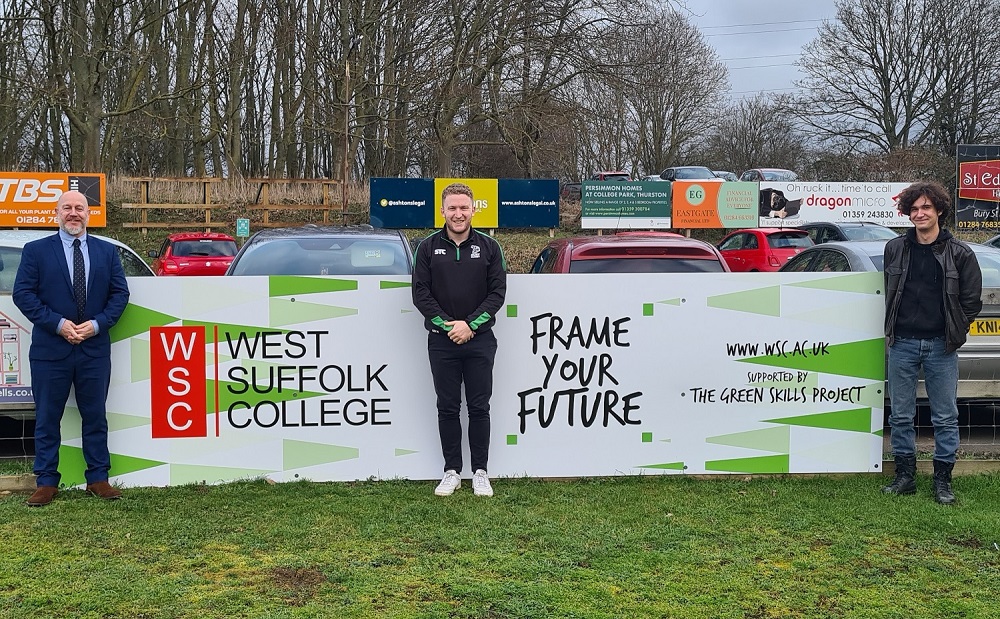 Phil Stittle, Will Affleck and Brodie Edwards.
West Suffolk College has teamed up with Bury St Edmunds Rugby Club with the aim of converting the Haberden into a more eco-friendly environment.
Talks began last year between the College and the club to see how the organisations could join forces to support each other via ongoing sustainable initiatives.
So far West Suffolk College and their green skills team have been working alongside the rugby representatives to find ways of reducing energy consumption, water usage and waste to help lessen the impact the club has on the surrounding environment.
In addition to this work - and as a way of helping to kickstart the project - a group of graphic design students submitted designs inspired by the organisation Greenpeace that would be used to create one of the first ever pitch side advertising boards that has been made entirely by sustainable materials.
The board is made of Foamalux ECO material and consists of 80% reclaimed post production waste content and is 100% recyclable.
A group of the level three students who are based at West Suffolk College all submitted designs and Brodie Edwards, 18, from Earl Stonham was chosen as the winner of this design competition.
His work now sits proudly in place of the first XV pitch in Bury. On winning this contest, Brodie said: "I couldn't believe it. When I saw the billboard at the rugby club it was much larger than I expected and great to see my work somewhere other than my Instagram page. Winning has given me more confidence. I'm committed to the environment, it's important to me and it was great to be part of the project. Maybe one day one of my designs will be at Twickenham."
Will Affleck is the partnerships manager at Bury St Edmunds Rugby Club. Will said: "We have called upon the extensive expertise of our partners at West Suffolk College to support us. We understand the necessity to make ourselves a greener, more sustainable and eco-friendly organisation and we are very committed to doing so.
"We have made some great strides by introducing reusable cups to the club, with a recycling incentive. They were kindly provided by club sponsors, St Edmundsbury Wealth Management, and we have also engaged in a partnership with Lockerstash in terms of being more sustainable and accountable with our surplus kit. Furthermore, our Technical Kit Partner, STC Teamwear ethically source their kit and this was important to us.
Now we are working on this ongoing initiative with West Suffolk College.
"This eco-board is the first of its kind at Bury St Edmunds Rugby Club, therefore we feel proud working alongside fellow trailblazers such as the College and hope that many more of our partners follow suit."
Phil Stittle said: "We are grateful to Will and all at Bury St Edmunds Rugby Club for working collaboratively on this project. This has given our students a real life experience of how they can make an impact locally on the environment. It's vital each person makes little changes for the better so we can pass over our planet in good shape to the future generations. This is the just the beginning of our collaboration."