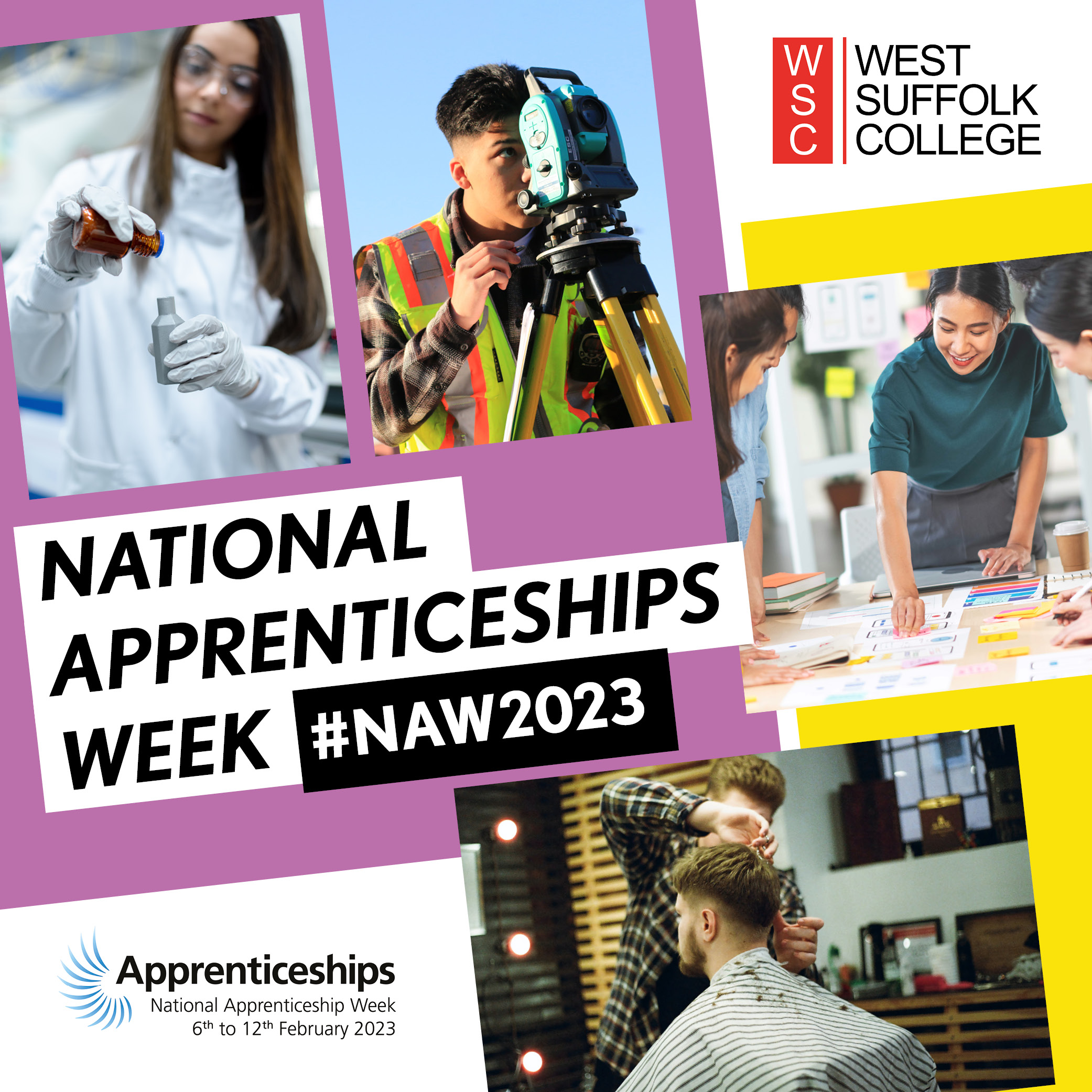 National Apprenticeship Week 2023: 6th to 12th February 2023
The Eastern Colleges Group is backing a apprenticeship campaign by hosting a series of events that will celebrate the importance and variety of these qualifications.
The events will take place during National Apprenticeship Week, an annual national drive that is taking place between 6 and 12 of February 2023 at West Suffolk College, One Sixth Form College and University Studies at West Suffolk College.
According to executive director for business development, strategic growth and partnerships Phil Stittle, it's essential that the group (that also incorporates Abbeygate Sixth Form College in Bury) backs this initiative.
Mr Stittle said: "National Apprenticeship Week provides us with an excellent opportunity to showcase apprenticeships nationally - and also highlight the opportunities that exist to create the pathway for the next generation of apprentices.
"At West Suffolk College and across the Eastern Colleges Group, we are encouraging employers to engage with the activities during the week and promote vacancies they have either now or in the summer, so applicants can be matched that much sooner. We will also be celebrating the achievements of our Apprentices at our annual awards ceremony."
Events taking place during the campaign are as follows:
Friday 3rd Apprenticeship Awards
This occasion will recognise the outstanding achievements of apprentices during an awards do that will take place amidst an evening of celebration at Edmunds restaurant.
Monday 6th Website and social media take over
The college marketing department will link up with the apprenticeship team to send out information, employer videos and case studies to enable people to find out more about these qualifications via social media.
Tuesday 7th Employer Networking Breakfast
A networking breakfast will take place at Edmunds restaurant so organisations can come along and find out what an apprenticeship could look like for their business.
Tuesday 7th at 1pm - Live Apprenticeship Q&A on Facebook, Twitter, LinkedIn and Instagram
Discover more about Apprenticeships and ask any questions you have about to our Apprenticeships team in our live Q&A. If you've got any questions you'd particularly like answered, message them to This email address is being protected from spambots. You need JavaScript enabled to view it. and we'll be in touch.
Tuesday 7th One Sixth Form College Event
This event will be a chance to for students to hear about the apprenticeship offer at One Sixth Form College in Ipswich.
Wednesday 8th Discover Apprenticeships Event
West Suffolk College will host a parents evening, for people who are looking at the possibility of studying on an apprenticeship.
Over 25 employers will be attending this event that takes place between 5-8pm at University Studies at West Suffolk College.
Thursday 9th NCTC Apprenticeship Event
This will be a chance for potential apprentices and businesses to visit a new West Suffolk College training centre in Chatteris. Over 200 students are coming along and listen to hear talks from local employers and previous apprentices.
Tuesday 9th at 1pm - Live Apprenticeship Q&A on Facebook, Twitter, LinkedIn and Instagram
Discover more about Apprenticeships and ask any questions you have about to our Apprenticeships team in our live Q&A. If you've got any questions you'd particularly like answered, message them to This email address is being protected from spambots. You need JavaScript enabled to view it. and we'll be in touch.
Saturday 11th Cambs Uni Hospital Recruitment Event
A full team from Addenbrookes Hospital will be visiting our centre in Haverhill from 9.30am – 2.00pm to highlight current career and apprenticeship opportunities that are currently available at one of the most recognised and respected hospitals in the world.