Location: West Suffolk College, Out Risbygate, Bury St Edmunds, IP33 3TT
Date: Saturday 24 March 2018
Time: 9.30am - 1.30pm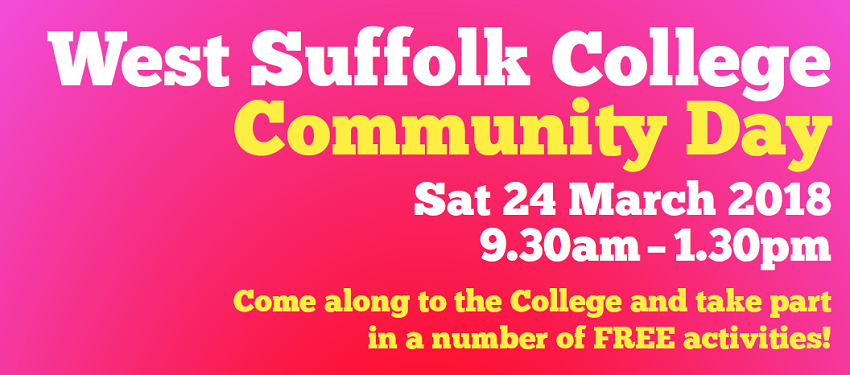 We are opening our doors to our community so come and have a go at a number of activities.
Whether you are a singer and want to perform or want to have a go at science then this day is for you. We have a number of workshops throughout the day for both young and old, so why not book into one of our sessions or drop in to find
out what's going on.
For young people:
Science activities – Lego, robots and penny cleaning!
English & maths revision for 13 –16 year olds
Yoga for Young People , 3 workshops available: 10.15am–10.45am (for ages 3–6), 11am–11.30am (for ages 7-10) and 12.30pm–1.15pm (for ages 11–14)
Raspberry PI workshop
For the whole family:
Vocal workshop by Come & Sing – open to anyone aged 10+
Orchestra Jam – exactly what it says – if you are grade 5 or above,
bring your instrument and 'jam' with us
Suffolk Mind are running a 'Sleep well, learn well' workshop
Take part in a table tennis competition
For parents:
Understanding my child's education – a parents update on the education system for 12+ young people
Limited space is available on some activities so book your space now.
Please note: Booking on sessions isn't mandatory however some sessions have a maximum group number and may fill up quickly. So we'd advise you to book your space early to avoid disappointment. Activities such as science and ping pong competition don't need to be booked, you can just turn up and participate.