About the course
Is it your dream design and build crazy creatures and stunning space craft that will wow, fascinate and scare millions? Then this unique course is for you. For two years you will focus on the design and fabrication of props, models and special effects for the entertainment industry.
Entry requirements
Entry is by interview (informal). Candidates will need either a minimum of four GCSE's Grade C/4 or above, or an equivalent Level 2 qualification. One of these must be in either English or Maths - or both. Applicants will have the opportunity to discuss the course content and requirements during their interview and provide a portfolio of work demonstrating their creative ability. Applicants will need to be able to be motivated, manage their own time and have a mature outlook.
Qualifications
On successful completion of the course you will gain the UAL Level 3 Extended Diploma in Art & Design (Visual Special Effects and Animation pathway)
What you'll learn (core modules)
This is a unique course at this level. It will be an incredible two years of creativity and skill development. The course explores three-dimensional design and making skills for models of fantasy architecture, mask manufacture, puppetry, character creation, props, vehicles and out-of-this-world environments. This will involve skills in idea creation, design development, sculpture in various materials and final filming/effects techniques.
There will be various trips locally, nationally and internationally (TBC).
There are no written exams and students will be assessed through a combination of coursework and practical work.
See some of the work our students have created on Instagram.
Any student aged 16 to 19 who does not hold a GCSE A* to C (9 to 4 on the new grading structure) or equivalent qualifications in Maths and English by age 16 will need to continue to study these subjects in each academic year.
The course is structured to offer an equal quantity of individual projects and production practice on a wide range of internal productions and external commissions.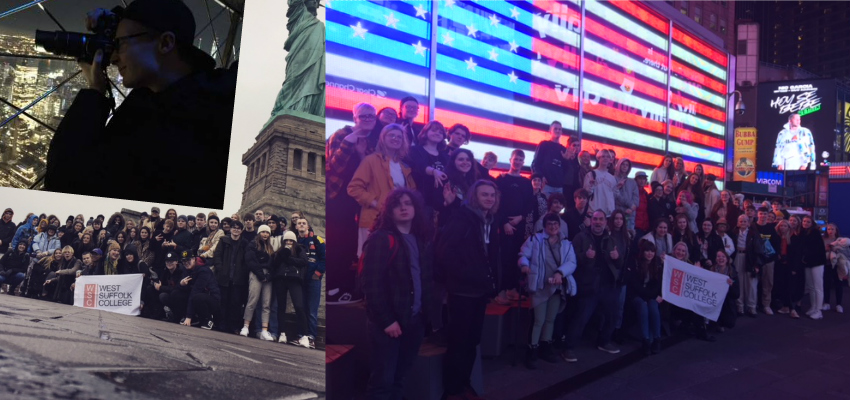 Students experienced the hustle and bustle of New York as part of their studies.
New York Residential Adventure 11-16 November 2019
The School of Art and Design
Derek Johnson – Director
55 members of the School of Art and Design returned from an incredible 5-day residential in New York City, USA. The trip was packed and fast moving – early morning starts and walking many miles each day – covering the breadth of Manhattan through to the far south of Brooklyn.
It was a truly inspiring, demanding, happy and simply fantastic week.
Benefits, skills and character strengths
In the School of Art and Design we have a culture of outstanding standards. All courses require resilience, determination to succeed and professional conduct. Full attendance and meeting assignment deadlines is critical to success. We are preparing individuals for university education and employment. Building character strengths and ambition underpins everything we do.
How will I be assessed?
There are no 'exams' for any of our qualifications within the School of Art and Design. Assessment is of presentation of the set assignments by the different lecturers. 1-1 recorded feedback and targets are given at key milestones. All work is assessed and verified internally. The Final Major Project in term 3 is moderated externally. Final qualifications are awarded at either a Pass, Merit or Distinction level. At Level 3 all qualifications provide relevant UCAS points for university entry.
Where is the course delivered? (facilities/classrooms)
All aspects of the timetable are delivered in Leonardo House - a purpose-built Art School on the Bury St. Edmunds campus. Lessons are within specialist studios and workshops. These include 3D workshops, laser cutting/3D printing suite, fashion studios, a darkroom, photographic studios, ceramics workshop, drawing rooms, printmaking studio, interior design studio and 4 Apple Mac suites with over 120 I-Macs and 40 MacBooks.
Where will the course take me?
Students on this course have a great record of progressing to university degree courses and employment. The UAL Level 3 qualifications all carry the same UCAS points as equivalent A-levels. Art universities respond incredibly favourably to Extended Diplomas as they know that they have been delivered within a specialist Art School environment with specialist Lecturers.
Last year, 82 per cent of students progressed to university and 18 per cent were successful in finding employment. Students who decide not to progress to university generally undertake trainee employment positions within the creative industries. We have an outstanding track record of our students having amazing careers and fulfilling their dreams.
Will I need any materials or equipment?
Various creative materials will be needed throughout the course - depending on individual pathways and creative directions. At the start of the year a fee is charged for trips and enrichment. This is usually about £50. Other trips (such as foreign travel) are an additional cost and optional.
Days & times
Date(s) to be confirmed