About the course
This course will guide you through the design and creation of Computer Games and the gaming industry, whether your wandering the world of Azeroth, parachuting from a crazy bus in the sky, or streaming E-sports on Twitch you would have experienced the excitement and inclusion that the computer games industry creates. This course will give you the opportunity and skills to create new stories and build new worlds to explore, preparing you for progression onto University or Employment. We believe games students should be making games so from the first minute you start the course you will be building, coding, playing and designing inspiring and creative games. Each student will become part of LCH Games our inhouse gaming company aiming on releasing games through IOS, Android and Steam platforms in the coming years. This is the ideal course for creative and technical learners who have a passion for games and want to have an exciting gaming experience with industry focus.
Entry requirements
A minimum of 4 x GCSE grade 4/C or above. This must include at least English and/or Maths. Having studied and passed a creative subject is of huge benefit. Applicants will be invited into the School of Art and Design for a meeting/interview with the Course Director. This is an opportunity to discuss the course, review creative outcomes and ensure the applicant is following the correct path of study. It is important to note that applicants not reaching the required entry requirements will be offered a place on a different course. For example, the Digital Arts Level 2 (1-year course). This provides the grades and skills to then progress to the Level 3 Computer Games Design and Development the following academic year.
Qualifications
UAL Diploma (Extended) in Creative Practice: Art, Design and Communication (specialist pathway: Computer Games Design and Development Extended Diploma Level 3)
What you'll learn (core modules)
The first 4 units are designed to be skills driven with tutor led workshops used to develop your design skillset. These sessions will introduce you to Photoshop for character design, game sprites, level design and concept artwork, Unity for 2D and 3D game creation, 3D Modelling with Autodesk MAYA and C# Coding with Mono Develop. These workshops will guide you through the full development process and result in completed games at the end of each project.
This base of skills will then be further developed with the production of Independent and group based projects, where the games and assets you create are based upon wider world themes, the results of which will be entered into the BAFTA Young Game Designer awards and tie in with the TES award winning M.A.R.S Project. These briefs will add additional skills to your arsenal such as game sound and more advanced coding techniques such as AI.
The final project of the year is self-directed and written bespoke for you by you. This provides an opportunity to choose what area you want to focus upon, be it 2D, 3D, game sound, character design or rigging to name a few. The results of this project will generate your overall grade of Pass, Merit or Distinction.
Character design
Sprite sheets
Level design
Concept art
3D Modelling
Character rigging
UV Maps
Games Engines
Maya
Unity
Photoshop
YouTube and Twitch
Building Games
Year 2 is focused towards your individual progression and the construction of a world class gaming focused portfolio. This is your time to shine, and show off your skills in bespoke projects directed at each of the specialist areas. You will be able to focus upon your chosen pathways from year 1 and build upon these skills to develop inspiring games and artwork. These units allow for expansive thinking and experimentation, it's a time to take risks and create stunning visuals and exciting game mechanics. These projects are used to create the work needed for your University portfolios and job interviews. Each of you will create a digital portfolio and website as well as learn how to pitch and present your ideas at an industry level. The final project of the course will form your final grade of Pass, Merit or Distinction. This project is the last one you will create with us and you will be pushed to produce outcomes to the very highest standards, ready for submission or game release.
Year 2 students will take on the extra responsibility of being project leads for our in house games studio LCH games.
See some of the work our students have created on Instagram.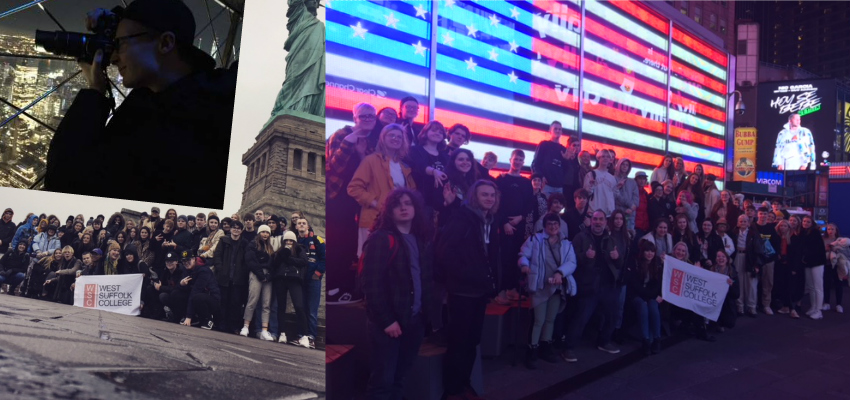 Students experienced the hustle and bustle of New York as part of their studies.
New York Residential Adventure
The School of Art and Design
Derek Johnson – Director
55 members of the School of Art and Design returned from an incredible 5-day residential in New York City, USA. The trip was packed and fast moving – early morning starts and walking many miles each day – covering the breadth of Manhattan through to the far south of Brooklyn.
It was a truly inspiring, demanding, happy and simply fantastic week.
Benefits, skills and character strengths
In the School of Art and Design we have a culture of outstanding standards. All courses require resilience, determination to succeed and professional conduct. Full attendance and meeting assignment deadlines is critical to success. We are preparing individuals for university education and employment. Building character strengths and ambition underpins everything we do.
How will I be assessed?
There are no 'exams' for any of our qualifications within the School of Art and Design. Assessment is of presentation of the set assignments by the different lecturers. 1-1 recorded feedback and targets are given at key milestones. All work is assessed and verified internally. The Final Major Project in term 3 is moderated externally. Final qualifications are awarded at either a Pass, Merit or Distinction level. At Level 3 all qualifications provide relevant UCAS points for university entry.
Where is the course delivered? (facilities/classrooms)
All aspects of the timetable are delivered in Leonardo House – a purpose-built Art School on the Bury St. Edmunds campus. Lessons are within specialist studios and workshops. These include 3D workshops, laser cutting/3D printing suite, fashion studios, a darkroom, photographic studios, ceramics workshop, drawing rooms, printmaking studio, interior design studio and 5 Apple Mac suites with over 120 I-Macs and 40 MacBooks.
Where will the course take me?
The course is the first step into a rewarding and challenging career in the creative industries. The digital, design, media and gaming sectors are vast and growing rapidly. If you work hard - this course will genuinely lead to employment in this world. We have an excellent track record of this.
A vast majority of our level 3 students progress to universities in the UK and internationally. We have an outstanding record and reputation for this. The course provides the entry requirements and portfolio evidence for successful application.
Will I need any materials or equipment?
You will be provided with a full 'kit-list' before the course starts. For a course of this nature, access to a good quality computer and software to enable development of work independently is important. There is access to the college resources facilities is during term time hours.
I'm interested. What should I do now?
Please apply online and we'll get in touch. Come along to one of our upcoming Open Events to have a tour and meet the tutors.
You will also be invited to our End of Year Show - which is in Mid-May each year. It would be great to see you there.
Days & times
Starting September 2021