About the course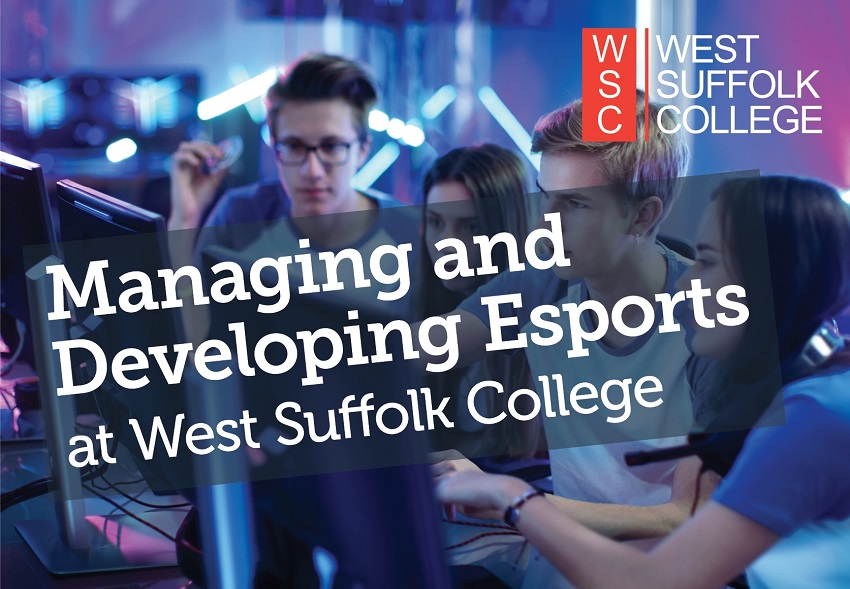 Esports (or electronic sports) is a term used to describe competitive video gaming. Skill and professionalism are celebrated throughout Esports and there is an engaging spectator element to it too, much like traditional sports. Esports tournaments usually consist of amateur or professional gamers competing against one another for a cash prize. The pro gamers who play at this level know the games inside out, much like a professional footballer or athlete would in their respective fields.
The Esports industry is a fast-growing global industry which not only requires the Esports players but also the professionals to manage and develop Esports events. This qualification has been developed to meet this upcoming demand for skills in managing and developing Esports. Over the duration of the course you will learn skills including planning an Esports event, Live-stream broadcasting, Shoutcasting(commentating), Health, Wellbeing and Fitness for Esports Players and producing an Esports brand. The professional skills and personal development you learn on this Esports course are focused on progressing to employment across a range of roles within Esports and beyond.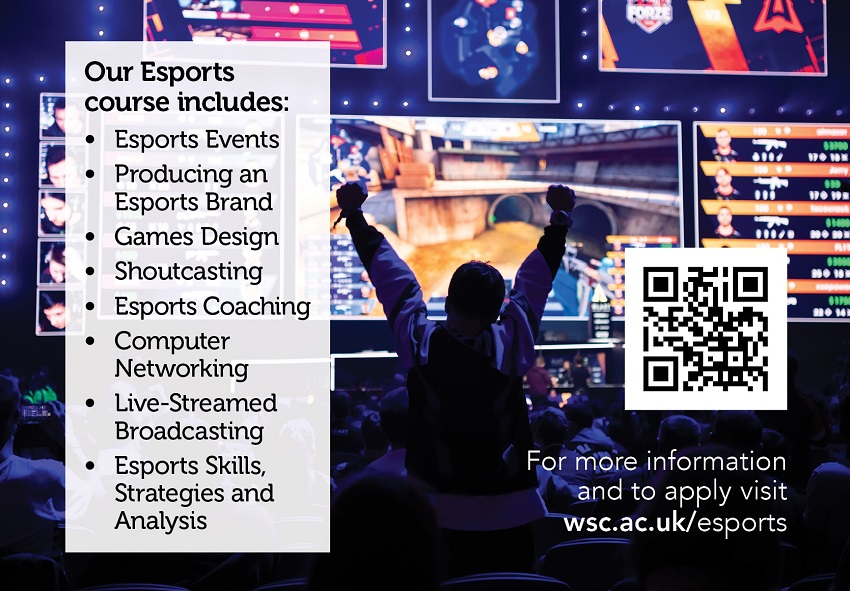 Entry requirements
Either GCSE passes in five subjects at grade C/4 or above, including Mathematics and English at grade 5 or above; or current WSC students an appropriate Level 2 qualification at Merit grade and one of either GCSE Mathematics or English at grade 4 or above.
Qualifications
The College offers a wide menu of Level 3 Diplomas. We will work with all learners in their first six weeks at College to place them on the appropriate Diploma programme that best meets their individual needs and best ensures their success.
Within this course, learners will have the opportunity to take either Edexcel Level 3 Extended Diploma in Esports (2 years) equivalent to 3 A-levels or Edexcel Level 3 Foundation Diploma in Esports 90 Credit (1 year) equivalent to 1.5 A-levels. Along with the Esports Diplomas there is also an option to study an additional qualification in Core Mathematics (1 year) equivalent to 0.5 of an A-level.
What you'll learn (core modules)
This is a career-focused qualification with industry endorsement enabling learners to develop underpinning knowledge, and technical and transferable skills that gain experience in a variety of different sectors of the Esports industry.
Learners taking this qualification will study five mandatory units:
- Unit 1: Introduction to Esports
- Unit 2: Esports Skills, Strategies and Analysis
- Unit 3: Enterprise and Entrepreneurship in the Esports Industry
- Unit 4: Health, Wellbeing and Fitness for Esports Players
- Unit 5: Esports Events.
The mandatory content allows learners to develop their technical skills across the different unit areas, supported by underpinning knowledge, and provides the opportunity for learners to relate these to the Esports industry.
Learners will also have 10 additional units to complete including live-stream broadcasting, shoutcasting, computer networking and games design.
Benefits, skills and character strengths
During the course learners will develop a wide range of transferable skills, that enable learners to experience different areas of Esports to aid their progression to employment, directly or via further study. Esports offers a unique opportunity to study a sector that crosses over multiple subject areas for example sport, marketing, enterprise and IT
The qualification is aimed at learners who are looking to progress to employment in the Esports industry, possibly via an apprenticeship, or whose aspirations may also be to enter higher education. The qualification is endorsed by The British Esports Association as being suitable for learners wanting to work in this industry
During each year of the course learners with take part in at least 45 days of industry placement. This will build on the skills developed in the classroom, give an insight into professional practices within the industry and will provide valuable experience evidence for a learners CV and skills portfolio. The industry placement is also a great opportunity to develop contacts with potential future employers in the Esports sector.
Studying Computing at West Suffolk College will also encourage learners to build upon the key character strengths that will contribute to their success in future study and employment. Activities built into the course will help learners to develop Self-control, Optimism, Confidence, Curiosity, Ownership, Resilience, Respect and Ambition.
How will I be assessed?
You will be assessed using a diverse range of assessment methods including: written reports, online tests, creating software applications, practical demonstrations and professional discussions.
Where is the course delivered? (facilities/classrooms)
The course is delivered at the West Suffolk College's main campus that benefits from a wealth of learning and support facilities. The Computing department has a number of well-equipped, bespoke Computing suites, including three networking labs. The recently upgraded PCs in our classrooms are high specification capable of running the advanced development software used by our students.
Where will the course take me?
Where would you like to go? Very few courses at this level provide the extensive opportunities that Esports can offer. Excellent wages, career structures and adaptable skills combine to provide Esports students with a great future.
Progression options include:
Progression to higher education at West Suffolk College : Interactive, Immersive and Entertainment Technology BSc (Hons)
Career pathways and progression routes in Esports: professional players, coach, shoutcaster/host, esports analyst, esports journalist, esports content creator, observer, administrator, esports broadcast/production, community manager, team/player management and operations, events management.
Potential career pathways and progression routes in other related industries include: cyber security, virtual reality and artificial intelligence, interface design, games development, social media management, event management, merchandising, sports coaching and development, journalism, exercise science.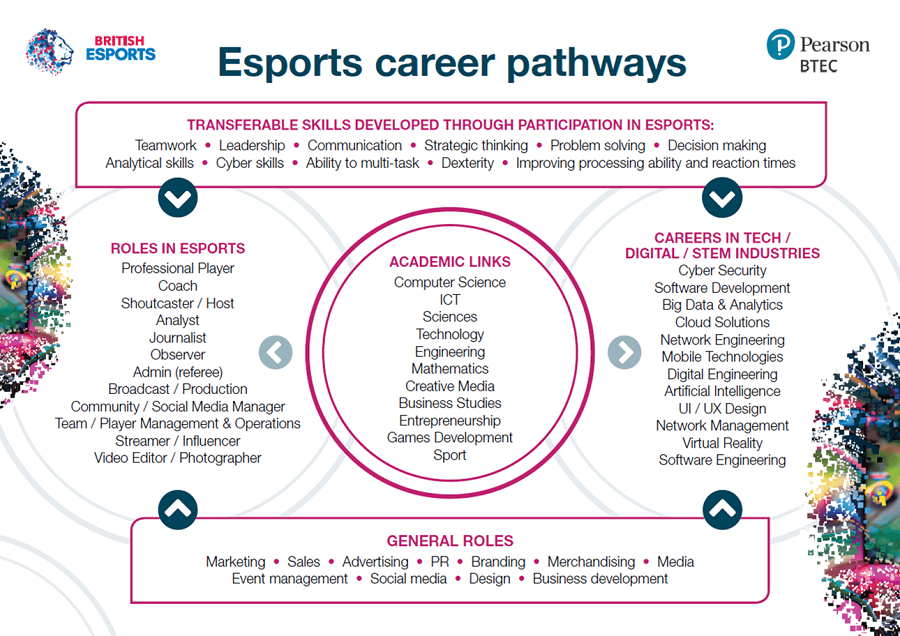 Will I need any materials or equipment?
Stationary(notepad, pen/pencil and ruler) and a storage device (memory stick). A home computer is not required but would be helpful to work at home. All other resources such as text books and software required for the course will be covered by the enrolment fee.
How much will it cost?
There is a £40 enrolment fee at the beginning of each year of the course to cover the costs of essential resources and field trips. There will be at least one field trip in each year of the course. In the past 2 years we have visited Bletchley Park, The Cambridge Centre for Computing History and EGX the European Gaming Exhibition at the NEC.
I'm interested. What should I do now?
Complete the online application and you will be invited to attend and interview for the course, when you will be able to view the facilities, meet some of the lecturers and ask questions.
If you have any questions why not attend one of our open events or contact Ben, the Course Director, at This email address is being protected from spambots. You need JavaScript enabled to view it.
Days & times
Starting September 2021
Monday 09:15 - 16:15
Wednesday 09:15 - 16:15
Thursday 09:15 - 16:15