| | |
| --- | --- |
| UCAS Code: | B001 |
| Institution Code: | W46 |
Introduction
As a student on the Business and Management programme, you will be involved in identifying and applying the main business processes and personal skills essential in effective management. You will apply your knowledge and skills in a range of specific situations such as marketing management, the legal environment, developing innovative practice to support business performance, the management of organisational change, professional futures and sustainability. The overall aim of the programmes is to provide an inspiring, challenging course of study that will equip you with the knowledge and skills necessary to enable you to contribute effectively to the leadership and management of organisations within a rapidly changing business environment.

Developing professional skills is key to graduate employability and teamwork, communication, planning, problem solving, time management, leadership, negotiation, compromise and conflict resolution are key transferable skills. You will be given opportunities to listen to, value and challenge your peers; you will also be able to explain your own ideas. You will have opportunities to develop your group work skills at all levels.

Developing professional practice is an integral part of your course. Developing your professional practice enables you to put theory in to practice by participating in relevant tasks within a real business and management context. These activities will expose you to the realities of the workplace and enhance your graduate employability skills by further developing your knowledge, skills and competencies required to perform effectively in a work environment. A significant benefit of work-related learning experiences is that they improve your academic performance as you will see, at first hand, how organisations operate. You will be able to expand your professional networking throughout the course.


Course modules
The overall aim of the BA (Hons) Business and Management programme is to equip you with the knowledge, skills and experience that will enable you to be 'professionally ready' on graduation. The programme provides broad coverage of the key functions of management and enables you to appreciate the importance of the social, political, ethical, technological, environmental and global contexts in which organisations operate. The programme also provides opportunities for you to develop creativity, communication, problem solving, time management and decision-making abilities through a range of skills and knowledge relevant to modern business and professional contexts. This is partly facilitated through the opportunities provided to investigate current issues within the business and professional environments.
This overall aim embraces a number of distinct aims:
· To provide you with a systematic understanding of key aspects of business and management through a coherent and integrated programme of study.
· To develop conceptual understanding that enables you to devise and sustain arguments, use established techniques of analysis to solve problems and describe and comment on current research in business management.
· To prepare you for a career in business and/or management by developing personal and professional skills that will support communication, group interaction, information finding, analysis and problem solving during your period of study and future career development.
· To provide you with a valuable and positive learning experience in your academic studies.
Career opportunities
Careers can be in business management (both within the United Kingdom and globally), marketing, in research and development, in the financial sector, event management, retail management, logistics and human resourcing.

A degree in Business Management is ideal preparation for a wide range of careers including employment in major organisations, in the public sector, in small businesses/start-ups and in the charitable sector.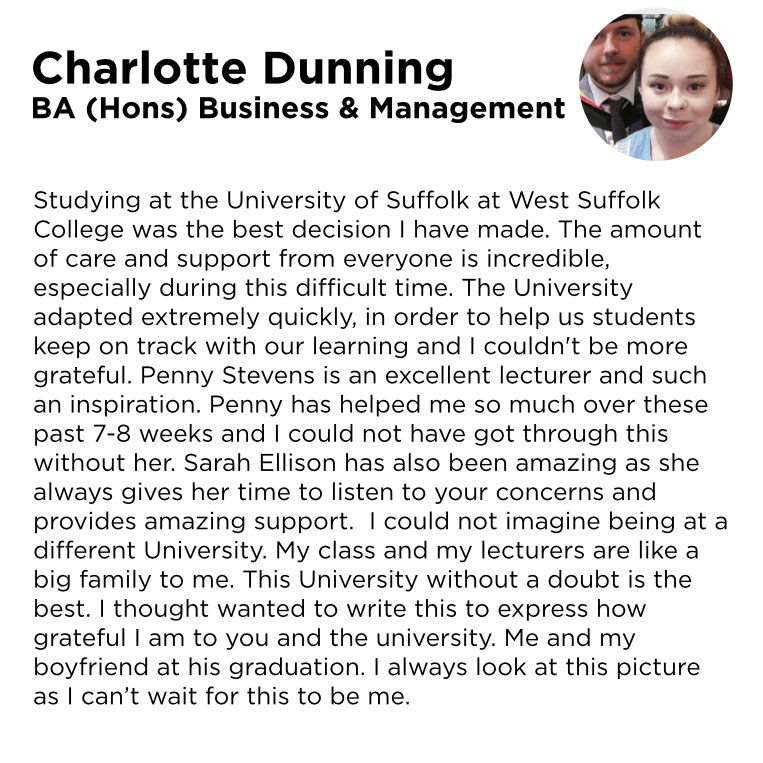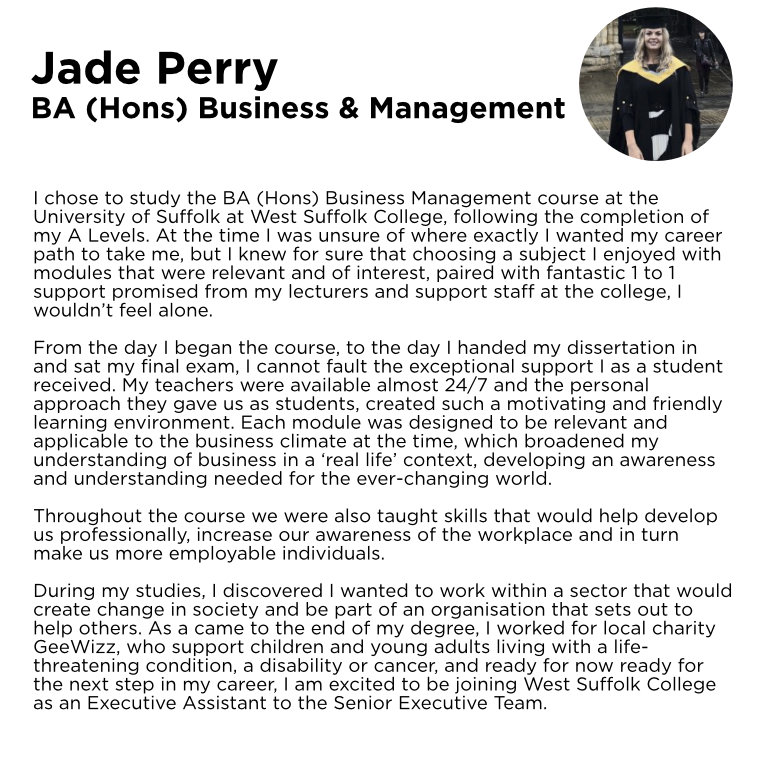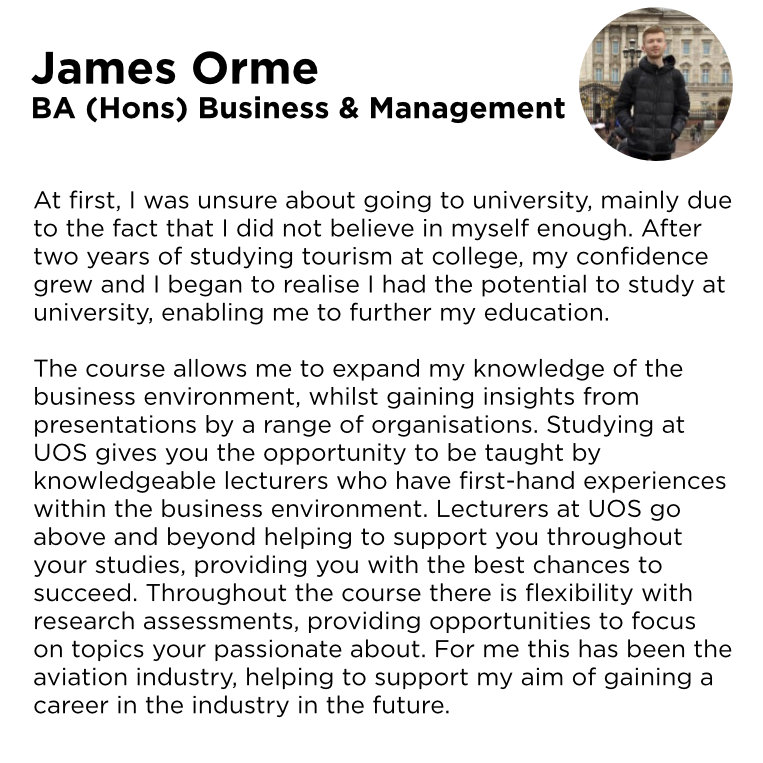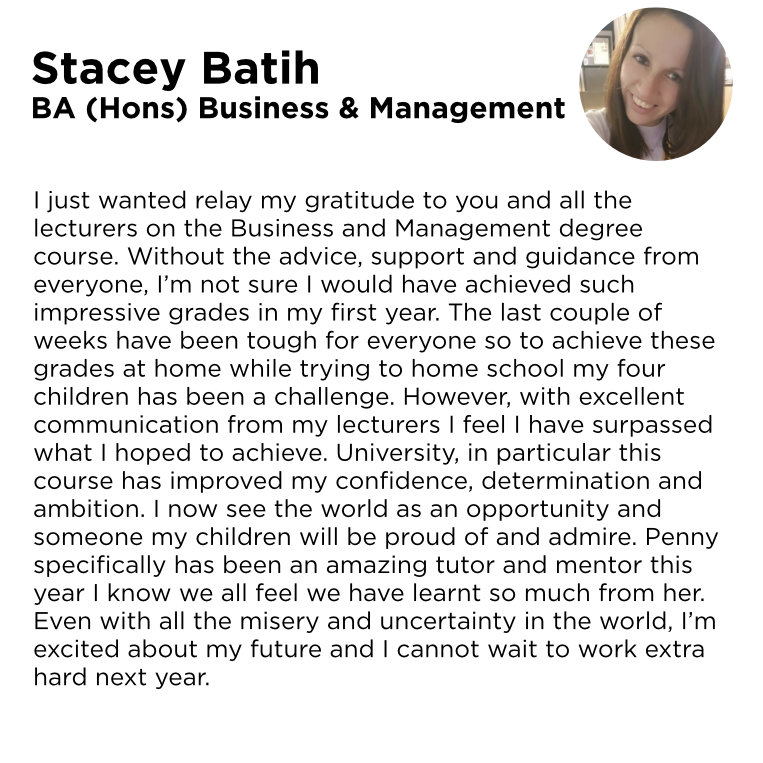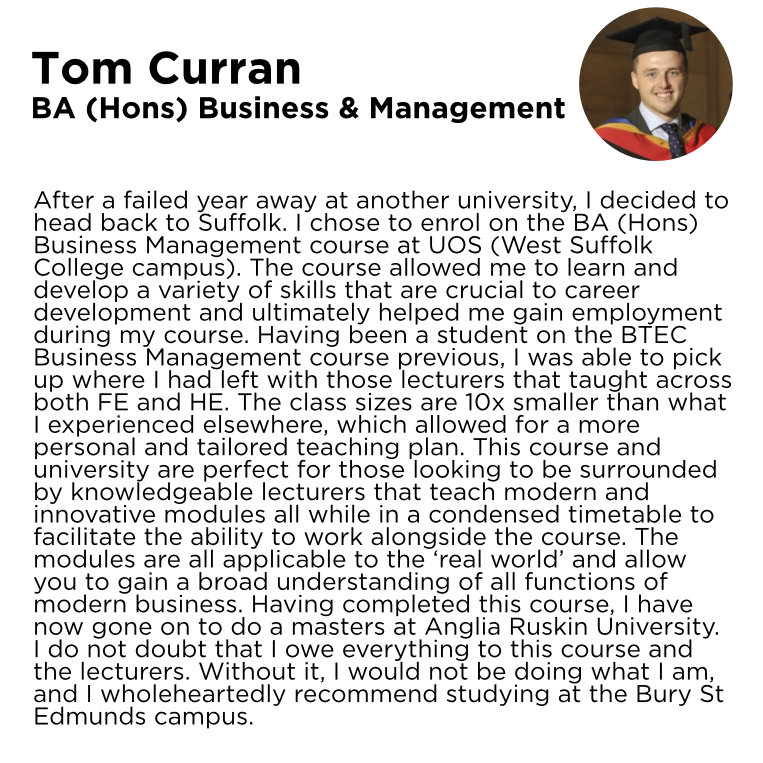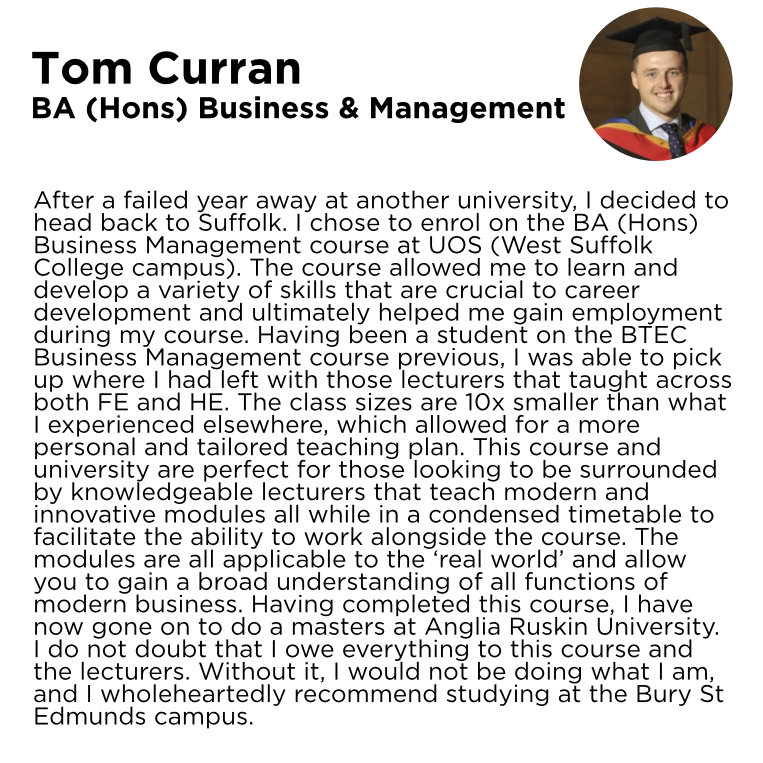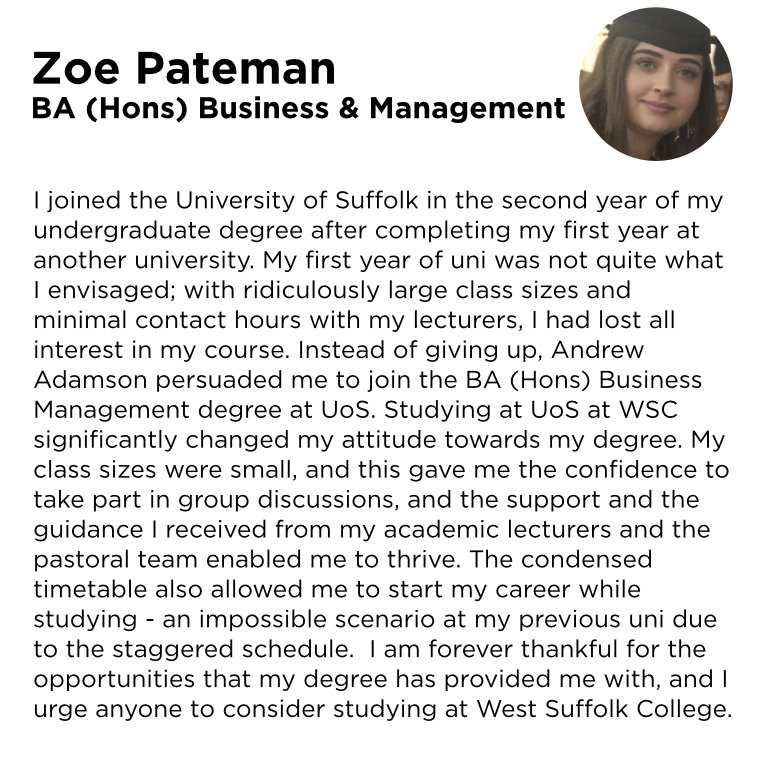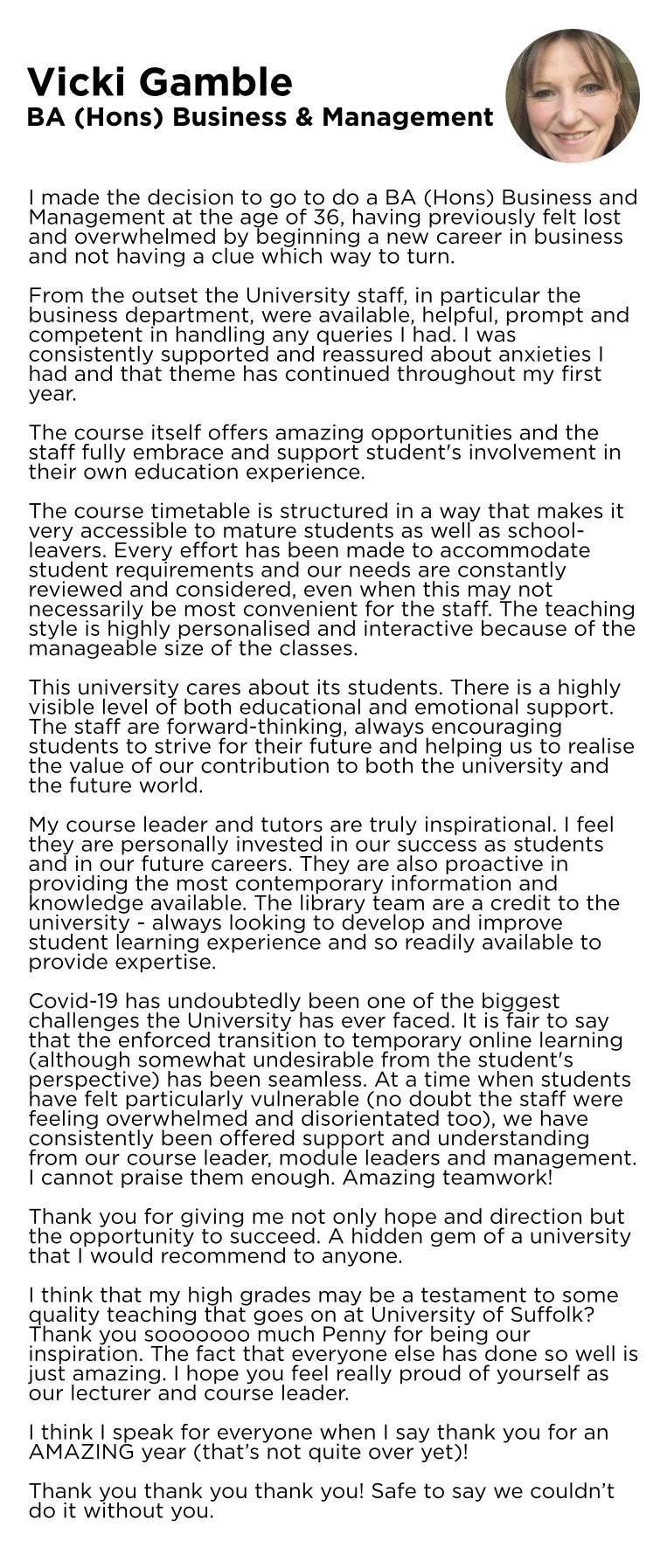 Fees and finance
£8,500 per year
Entry requirements
UCAS tariff: 112 Points
A Levels: BBC
Pearson BTEC level 3: DMM
Days & times
Date(s) to be confirmed