Location: The Gateway, West Suffolk College, IP33 3RL
Date: Friday 31 March 2023
Time: 9.15am to 4pm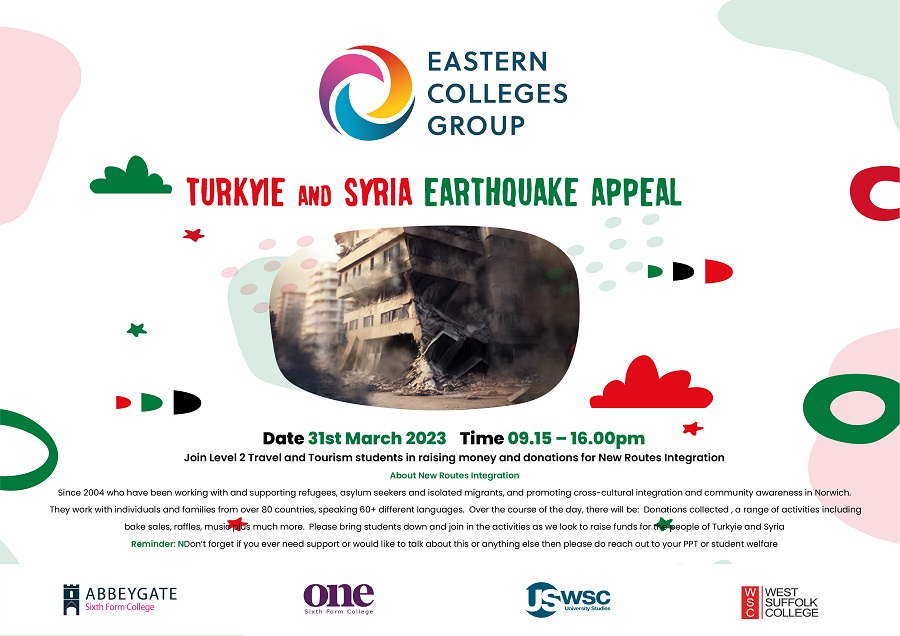 Join our Level 2 Travel and Tourism students and staff from across Eastern Colleges Group in raising money and donations for New Routes Integration. New Routes Integration work with individuals and families from over 80 countries, speaking 60+ different languages.
All donations welcome, the students are looking to raise about £250 for New Routes Integration to do something support the people of Turkyie and Syria.
Upcoming event
We would like to bring staff and students together and although money is important, my students would also like donations such as clothing and any other items which are of good use but no longer wanted.

This event has reminded both me and my students of the importance of family and looking after our loved ones especially when they may live so far away.

As a group, we would like to thank everyone for their contributions can as we appreciate that we are also in a cost-of-living crisis and as such any donation regardless of how big or small is appreciated and we hope that whatever we raise can have a positive impact for the people in Syria and Turkyie.
We would like to thank you all for your support and any donation no matter how big or small is greatly appreciated
Many thanks,
Mike Opukah, The School of Business and Tourism