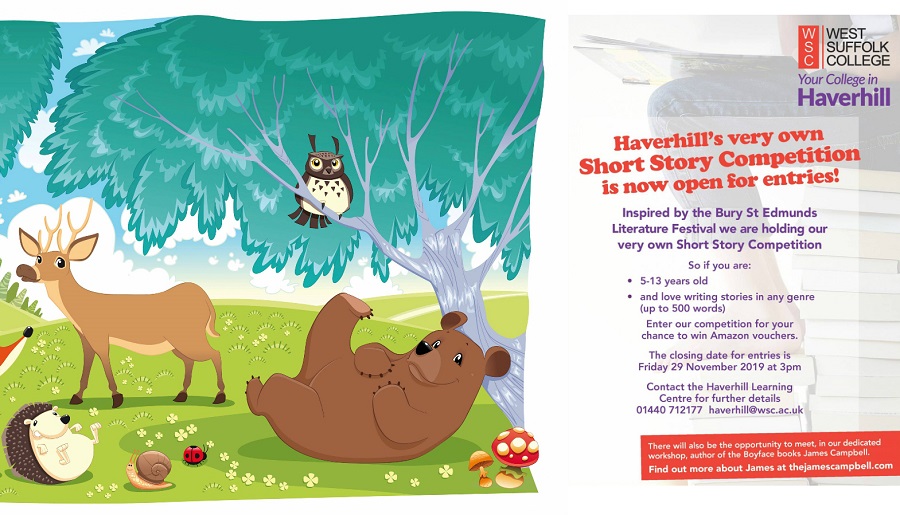 The competition is open to all young people aged 5 to 13 who submit a short story of no more than 500 words. Stories can be told in any person (i.e. first, second or third person) and can be on any subject and in any genre (mystery, science-fiction/fantasy, historical etc) Entries will be judged anonymously by a panel including Carl Mynott, local author of the British Wildlife Tales and Gillian Bolton Luckett, author of the book 'Bilsper the Spider'. Winning entries will be notified by post.
The winning authors will have their work published on the West Suffolk College website.
The winning authors will also be invited to read their short story and the video will be shown on the college website.
Winners of each category will receive a £30 Amazon voucher.
Runners up in each category will receive a £10 Amazon voucher.
All entrants will receive a certificate of participation
Closing date for entries: Friday 29 November 2019 (3pm)
Winners will be notified by 14 December 2019 and prizes will be awarded at a ceremony (date to be announced)
Rules of the competition
There are two age categories: Ages 5-8 and ages 9-13. There will be one winner and two runners up in each category.
Stories should be printed in 12-point Arial font with double line spacing and single sided. The title of the story must appear as a header on each page and pages should be numbered.
Stories should be no longer than 500 words long. Please show word count.
Though copyright in the stories will remain with their authors, the Haverhill Short Story competition reserves the right to use all or part of the stories for publicity purposes and authors must agree to their stories being published on the WSC website and/or any other websites/newspapers/magazines as nominated by the organisers.
Stories must be written in English and should be all the author's own work. The story should not have been entered in to any other competition or published in any other form.
Please DO NOT write your name or any other identifying material in the header or anywhere else on the document. To ensure anonymity, all personal details should ONLY appear on the accompanying entry form.
West Suffolk College can not guarantee the return of paper copies so authors should keep a copy.
How to enter
To enter the competition please complete the entry form and send it by email as an attachment along with the story (as a separate attachment) to
This email address is being protected from spambots. You need JavaScript enabled to view it.

. Alternatively, please send your completed form and story to West Suffolk College in Haverhill, Park Road, Haverhill CB9 7YD, or by using the form below.
Submit your story online